Marketing one's own creative output is vital for calendar self-publishers. But how? Which of the many social media outlets are the most helpful, for example, when it comes to spreading the word? What's the right strategy?
Lots of question, here are some answers and very good ideas: We had a chat with our German Calvendo author Oliver Pinkoss who's not only a passionate and skilled photographer but also a real marketing buff. Here's the lowdown of how he approaches self marketing for self-publishers.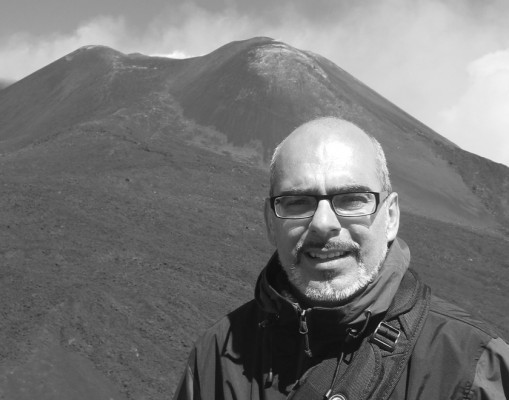 Oliver Pinkoss (Copyright: Oliver Pinkoss)
Oliver, many Calvendo self-publishers freely admit that they're no marketing experts and hence, that they're sometimes at a loss when it comes to marketing their calendars. You, however, are a marketing expert as well as a photographer. Which options and channels do you use in order to strategically and succesfully market your projects? Tell us a bit how you approach self marketing!

Well, first of all I should maybe say that I'm afraid anyone hoping for a 'one fits all' standard recipe that meets every requirement will be in for a disappointment since such as things doesn't exist. In general, I'm always very impressed how quickly the calendars are available on different online retail platforms. The fact that the calendars are print-on-demand products and not produced in advance for stock means that online retailers as the main sales channels work that well for Calvendo calendars. Because of that I'm focusing my marketing activities primarily on social media channels. In this context, it's again not just about one channel only that fits the bill but about the mix of different channels and how they interact with each other. Only this will ultimately bring success and a high reach.
My "central port of call" is my own website, respectively my blog, plus my smartphone app. I've had this app for some time now for all the main operating systems. With this app, users can directly get all the information that is available on my Facebook page, my blog, my YouTube channel plus many other things. My website is at the core of a range of other important platforms that I have put around it. My Facebook page, Twitter, YouTube channel and my Amazon author page make up the basic structure here. In addition to that, there's Pinterest and Instagram which I'm planning to use more in future.
Apart from a blog post for every calendar I also put up a video (max 30 to 60 seconds) on YouTube because moving images play quite a considerable role in communication nowadays.
What are your experiences using Facebook?

For marketing purposes, Facebook groups that are dedicated to a specific topic are very helpful. It's important to find groups that reflect the right target group. To give you an example, I'm not using groups for animal or dog photography to market my dog calendars but rather dog lover groups or groups whose members have a special interest in a certain breed. I've made very good experiences with this approach.
In this context, it's very important to not just simply post a link to one's calendar to promote it (which is also not allowed by many FB groups) but to really communicate and engage with the members of a group. For my calendars featuring different cities, for example, I use groups or forums where people talk about travel (such as cruises). The web definitely provides many ways to engage in conversations about one's images and calendars.
One thing that was very interesting for me to see was when in 2013 one of my dog calendars was featured in a dog magazine. However, this promotion hardly influenced sales at all which was rather surprising for me.
Are there any channels you're not using but think are interesting or have potential for marketing your calendars? 
There are many channels out there. What's more important is to look very closely where to find the target group for one specific product.  This increases the potential and importance of any given channel.
You've so far published 34 calendars with Calvendo. Do you sell your photos anywhere else?
Before I started working with Calvendo I had accounts with a number of stock photo agencies. I still got a couple of them running but I'm not really active in this respect anymore, for different reasons. The main one is that agencies and their clients require a different type of creativity to the one I'm prepared to deliver. Therefore, Calvendo is currently my only sales channel.
After having been a Calvendo author for almost two years, how would you describe your experience? 
In a nutshell, my experience has been really positive throughout. The software and online editor works reliably, is easy to use and should there be any issues, the support team is quick and professional.
One topic that's always being discussed among authors is the jury. I have so far been "lucky" enough not to have had a calendar finally rejected. However, it's sometimes difficult to understand certain requirements of the jury or why they ask for certain modifications to be made. My experience is that as a self-publisher you have to read the jury's comments very carefully in order to see if a certain comment is actually a request or just a suggestion. In the case of suggestions, authors can and are allowed to stick with their initial offering. Otherwise, the same applies as for the support team, and the jury works very swiftly, is professional and friendly. And I'd like to take this occasion to express my gratitude and respect for that.
What are for you personally the advantages of working with Calvendo? And what could be improved?
Being a hobby photographer, Calvendo offers me the option to publish high quality products in a very professional way and completely risk free. This philosophy allows me as the author to realise my own creative ideas without  the publisher taking too much influence.
For the future, I'd like to see more formats on offer (in particular also for Germany) and maybe also a few new calendar grid options for family planners.
Also, an export function for sales projections and quarterly accounts in CSV or XSL format would be very helpful. Over the last 18 months, I have built a rather complex excel system for all my actual sales and projections which enables me to see my bestseller list, which formats sell best, turnover and sales developments at a glance.
What are your plans for the coming months? What can we look forward to? 
I'm still planning things for this year. I'll probably add a few calendars featuring cities around the world and landscapes. Maybe I'll also try something along the lines of digital art. But obviously, this will also depend a bit on the jury :-).
Many thanks, Oliver, for your insights into marketing for self-publishers and valuable tips!  We look forward to your future projects and wish you all the best. 
More about Oliver Pinkoss:
Website: www.pinkoss.de
App: http://pinkoss.de/neuigkeiten/smartphone-app/
Amazon: http://www.amazon.de/-/e/B00FPLZYZA
500px.com: http://500px.com/OliverPinkoss
Facebook: https://www.facebook.com/oliver.pinkoss.photography
Twitter: https://twitter.com/pinkosso
Instagram: http://instagram.com/pinkosso
Pinterest: http://www.pinterest.com/pinkosso/
Vimeo: http://vimeo.com/pinkoss
YouTube: https://www.youtube.com/user/Lightstorys
Flickr: https://www.flickr.com/photos/photostorys/
CALVENDO product gallery: http://www.calvendo.de/galerie/autor/oliver-pinkoss/