Yorkshire-based photographer Rory Garforth has a knack for black and white images. His evocative pictures make you look just that little bit longer. Here, he tells us about his photography, what influences his work and why Yorkshire is the perfect 'shooting ground'.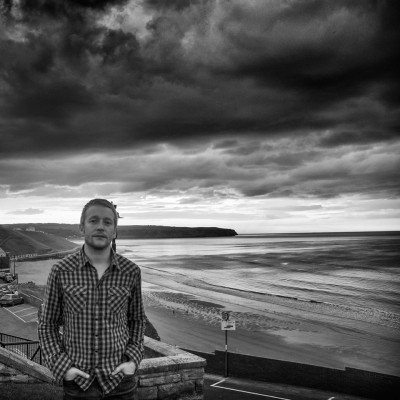 1. Rory, we need to talk black and white with you: Tell us a bit about your specific preference for black and white photography and how it developed.
My first camera was a Russian Zenit 11 SLR, bought for me by my parents. Back then, aged 11 in the 80s, I instinctively wanted to shoot in black and white and asked my father to get me black and white film. I've always loved noir and the look of old movies. I've stuck with black and white because I love the timeless, classic feel it gives. I also love the drama in a black and white image with its strong contrast and texture; something I've never really achieved in a colour image. I'm also colour blind and have often wondered if this has influenced my photography. My black and white images tend to be strong, high contrast and sometimes powerful – I'm working on soft, gentle and subtle!
My appreciation for landscape and wide open skies comes from early trips to the coast in Yorkshire, and my love of mountains from hiking trips to Scotland and the Lake District. Photography wise, my earliest influences were Ansel Adams, Fay Goodwin and particularly Michael Kenna. I felt that his photography showed me what I really wanted to learn and aspire to. Another is Bill Brandt, who really got me interested in street photography and whose dramatic landscapes of Skye first drew me to that location. I really admire the work of Susan Burnstine, she uses handmade cameras and lenses creating a really unique look. I love her book, 'Within Shadows'.
2. You have a passion for landscape photography and the great outdoors. Looking at your portfolio, it becomes clear that your 'home turf' of South Yorkshire definitely plays an important role for your work. What specifically is it that you find so inspiring (apart from the fact that the scenery is indeed stunning!)? And can you tell us a bit about how you find the places and motives to shoot?
Well, there's nothing quite like photographing Yorkshire! For me, it really does have all the ingredients you need: the coast, the amazing countryside, the cities, the nature, the history, the list goes on and on. I take the creative process of photography and in particular landscape and nature photography very seriously. For me it's about finding inspiring places to create images and then the persistence to not settle for whatever conditions I may encounter during that first visit, but to continue going back again and again until conditions areperfect – generally for me, the worse the weather, the better for my mono work. I want my images to have an impact on the viewer, to invite them in.
3. Let's talk tools: What kind of camera do you use and why?
My set up these days is quite basic. I've always used Nikon SLRs. I currently use a Nikon D800 with Nikon/Voigtlander lenses and only use primes (20mm / 35mm / 50mm / 58mm 90mm), mainly manual focus. I like using one focal length, it forces me to think about angles and perspective much more. I'm always physically moving to get the shot I want. I'm not interested in staying in one place, zooming in and out! I also love how primes really isolate the subject and the benefits for low light work. I use various filters for landscapes, B&W Grads/ND Filters for long exposure work.For Street photography I love the Fuji X100 and the Leica M6. Both small, light, quiet and discrete. Perfect for 'shooting from the hip'.
4. What makes a great photo for you?
I like lots of drama and atmosphere in images. The use of contrast, shape and form to make a bolder image. A great mono image makes good use of shape, texture, lines and lighting.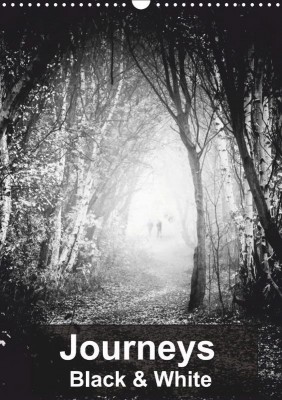 5. Talking about great photos, you chose a wonderful picture for your 'Journeys – Black and White' calendar cover. Can you talk us through the process of taking this picture and how it came about?
Thank you! I always look out of the bedroom window when I wake up and whenever there's mist or fog I practically shoot out of the house as I did when this image was taken. Fog and mist have the potential create a soft, romantic feel to an image and I like the way the trees give the impression of a tunnel or holloway. The image wouldn't have been the same without the two distant walkers. I enjoy having people in my landscape images.
6. One of your images, 'Dunstanburgh Castle from the South' has been commended in the prestigious Landscape Photographer of the Year competition in 2014 and featured in the corresponding exhibition in London and the 2014 Awards book. How often do you take part in competitions and how important is it for you to have your work recognised that way
I don't enter competitions all that often. I've entered LPOTY a couple of times and last year it was great to be commended and it gave me a good boost. I've been buying those books for a few years so to be included was a great feeling. It's certainly a good way to get your work recognised. From this I also got a commission with Ordinance Survey, for my images to be used in their headquarters, so that was great! I'll be entering again this year.
7. As a photographer, you have exhibited in local as well as national galleries in London and your work was featured in magazines such as Digital Photographer and Digital SLR User. What prompted you to give Calvendo and self-publishing calendars a go?
I'd never done a calendar and fancied giving it a go. I received an email from Calvendo asking if I'd be interested. After reading up on it and checking out the websites I realised there was nothing to lose!
8. Can you talk a bit about your experience when creating your calendar with Calvendo? Any tips or tricks for first timers, things to avoid and consider?
If you're creating black and white then choose crisp sharp images. An image of mine wasn't chosen as it had (intentional) noise, as you often get with film. I made quite a few mistakes on my first attempt and it can get a little frustrating when it flags up a mistake and you cant see the problem. I found the software intuitive and easy to use. The support team were really good and quick with getting back to me with hints and what to do to rectify any problems. My second attempt went much smoother (and quicker).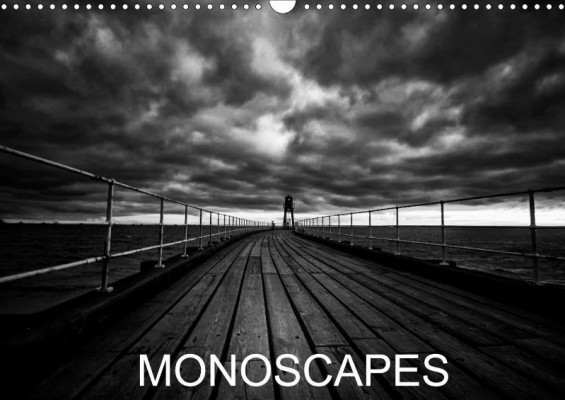 9. You've published two black and white calendars with Calvendo so far, 'Monoscapes' and the aforementioned 'Journeys – Black & White'. Any further plans and idea for more topics? Might there even be some colour creeping in at some point …?
Yes! It's a case of plundering the hard drives really. I'm off to the Lake District in May and I'm also going to do more in the Yorkshire Dales. I'm interested in abstract macro work, particularly using water/ice, so that's a calendar hopefully and I love working in square format too so I'll be doing one of those with landscapes. I do occasionally do colour images so who knows………!?!?
10. Last but not least, what are your general comments on Calvendo as a self-publishing platform: Anything you particularly like? And most importantly, things that need improving?
The product is professional and high quality and it doesn't take long to get onto Amazon. I like the formats available and sizes. The software is great to use (once you get the hang of it) and the feedback always quick, to the point and helpful. For any photographers out there thinking about it, I'd say go for it. There's nothing to lose. I'm still new to the process but looking forward to doing much more with Calvendo. For improvements I have only one…..Get rid of the annoying 'thanks for your Interest' pop up every time you click a link!  🙂

Note taken … Thanks, Rory, for talking to us, and we look forward to more of your work in our product gallery!
More about Rory and his work:
rorygarforth.com
www.facebook.com/rory.garforth
twitter.com/rory_garforth
Rory on LinkedIn