No matter if power- or narrowboats, Terry Hewlett has it all covered in his Calvendo calendar portfolio (and more!). The Wiltshire-based photographer, who also runs photography workshops, has more than 40 years of professional experience. Working as a wedding photographer, he has had many a (hopefully) happy couple in front of his lense and now intends to concentrate more on his "old love" landscape photography in future. Learn more about the Royal Photographic Society associate in our interview and don't miss his really good advice on the process of creating calendars!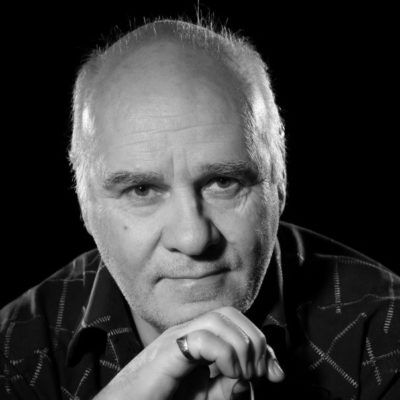 Terry, can you talk a bit about your background as a photographer and how and when you took up photography?
My passion for photography extends way back to my teenage years when I left my then current employment and started a 2-year full time photography course. During my two years I won a Royal Society of Arts Bursary competition. I then ran a commercial photographic studio in Northern Ireland.
How would you describe your style and approach as a photographer?
I mostly worked as a professional wedding photographer and would describe my style as eclectic, working in a variety of styles demanded by the clients. I enjoy all aspects of still photography from landscapes and sports to macro and lifestyle.
Let's talk tools: What type of camera are you using and why?
I currently work with a variety of Canon EOS cameras with my main camera a Canon 5D Mark II. I also own a medium format RB67 film camera and enjoy getting back to basics shooting black and white film.
What makes a good photo for you?
A good photograph has to engage the viewer encouraging them to travel around the image. This is achieved with good strong composition and a key focal point that draws you in. There are many other elements that also make a great photograph and captivate the audience, such as a strong emotive subject.
Do you have favourite photographers that inspire you?
To be honest there, I did not have any favourite photographers. However, the landscape photographers Charlie Waite and Pete Lik have inspired me to be patient for the right kind of light and Joe McNally for inspired portraits.
Can you tell us a bit about your portfolio: Which type of photography and motifs do you like most?
My work can be described as eclectic in the sense that I shoot many genre including floral, people, landscape, macro, studio and wedding photography (the latter is what paid the bills), however, as part of my work running photography workshops I must confess to liking low key "Film Noir" images. An early passion was landscapes but I have had little time to pursue this genre recently. Now that I have reached retirement age I am hoping for some more "quality time" to immerse myself in my two loves, walking and landscape photography, and work on some photographic projects. I also enjoy shooting Fine Art photography and character portraits.
When you think about creating a calendar, how do you go about choosing themes and images. Can you talk a bit about your process?
One of the prime questions is what people would enjoy looking at for a whole month. I researched calendars to find out what where the most popular and apart from the boy/girl band and superstar calendars the most popular calendars appear to be landscapes. Traditionally winter scenes have dominated the winter months on a calendar, however, I prefer to see a nice warm, comforting image on a cold winter's morning.
I build a list of subjects/themes on my iPhone notes app as they come to me, which can be at any time of the day. From this library I slowly build a catalogue of ideas that I use for future calendars. There are so many themes that work as a calendar but it must be a subject that I enjoy photographing. The process can take anything up to a year starting with the research and planning through to the final product.
We've noticed that all of your calendars so far are in landscape format. Any particular reason for that?
The reason for the landscape format is simply because that's what worked for all my existing images. As it was my first time producing calendars, I used images that I had in my existing portfolio captured over the past 10 years (since the start of digital photography). There is no reason why a portrait calendar will not work as long as the images suit that format. That's something to go into the "notes" list.
Do you have any specific tips for first timers using Calvendo?
Read the manual carefully as there are so many issues that can arise if you don't. Make sure your images are of the highest quality without "noise" or grain and they are sharp with good colour saturation. Have a third party look at your images for a constructive critique before considering them for a calendar, we all love our own photographs, however, will others?
Why did you decide to use the platform and start publishing calendars?
I currently have two books for sale on Amazon and other platforms, "Flash Photography – Art and Techniques" and "Wedding Photograph – Art and Techniques", so it was a natural progression to start selling calendars. Getting my work out to a wider audience and selling through Amazon and similar outlets was a priority.
I started using Calvendo after seeing it on Facebook because I liked the format and found the software really easy to use, and as a self-publicist the addition of ISBN numbers to each publication provided a wider platform in which to sell. Selling calendars just seemed to follow naturally from selling books and fine art prints.
Last but not least, what are your general comments on Calvendo as a self-publishing platform: Anything you particularly like? Or things that need improving?
It only took me a very short time to fully understand the software and as soon as I had completed my first calendar – the P1 Superstock calendar – I just wanted to continue and increase my portfolio.
I would like to have more feedback on the development process such as how long will it be before the calendar is available to buy online. Some email feedback prior to availability would be welcome so the author can start promoting. I have advised my contacts on social media that the calendars will be available soon, however, it does seem to take some time before they are actually available in the shops. The "gallery" notification on my Calvendo account is the only way I can check if the calendar is available through any of the nominated outlets, clicking on each to see if stock is available, but maybe I am missing something.
Thanks, Terry, for talking to us – we look forward to seeing more of your work in our product gallery!
Regarding stock and availability, let us just add some more information on a Calvendo peculiarity that is due to the print-on-demand nature of the system: Calvendo provides all the data for listing products that retailers then pull from the central book retail catalogues to use on their websites. Almost all retailers in the UK then list Calvendo calendars as "out of stock", however, they are still available to buy and can be ordered by clicking on the "add to basket" feature! Since they're print-on-demand products, i.e. are produced once ordered by a customer, retailers list them as out-of-stock. Which is not ideal, we're absolutely aware of that but how products are listed is at the retailers' discretion. Should a retailer decide to order in stock of a specific calendar, it'll be listed as on stock but again, that's also up to retailers.
Information on Terry's work and to get in touch:
Email:              terry@terryhewlett.com
Website:          www.photographyworkshops.co.uk
Facebook:       www.facebook.com/terry.hewlettarps
www.facebook.com/terryhewlettfineart
Instagram:       www.instagram.com/pworkshops
Twitter:            www.twitter.com/pworkshops
See Terry's calendar portfolio in the Calvendo product gallery
Published books:
Flash Photography: Art and Techniques, on Amazon
Wedding Photography: Art and Techniques, on Amazon