David Ireland's photographic ventures started when his nephew appointed him as 'official wedding photographer'. Since then, his camera has never been too far away and his Calvendo calendar portfolio reflects his passion for photogenic locations and motives, with castles, cathedrals and steam trains.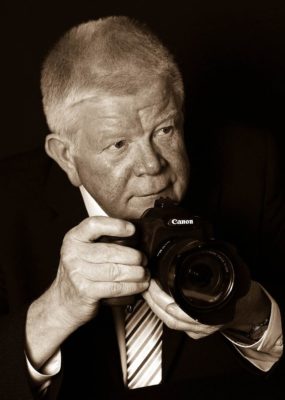 David, can you talk a bit about your background as a photographer and how and
when you took up photography?
About 10 years ago I was asked by my nephew to photograph his wedding but at the time only had a cheap compact digital camera. I bought a second-hand Canon 300D (which I still own) for the job. Not many days go by now when I haven't pressed the shutter button for one reason or another. I only use my cameras fully manual now and take 90% plus photos in RAW format.
How would you describe your style and approach as a photographer?
I don't think I am an arty type so my pictures tend to be of the picture postcard variety.
Let's talk tools: What type of camera are you using and why?
I use a Canon 40D and my old Canon 300D. I bought the 40D after the 50D was introduced (I think that is the one that superseded the 40D). It was marked down quite a lot and had all the features I wanted. I did buy a Canon 5D Mk 1 second-hand specifically for wedding photography but sold it later (a decision I regret now).
What makes a good photo for you?
Composition and lighting.
Can you tell us a bit about your portfolio: Which type of photography and motifs do you like most?
I have photographed about 10 weddings now and found that very stressful work. I work in the motor trade and have taken thousands of marketing pictures of used cars for internet advertising. I would say that getting out to photogenic locations is my favourite – I found the research that was needed to get good steam locomotive pictures particularly interesting.
When you think about creating a calendar, how do you go about choosing themes
and images. Can you talk a bit about your process?
I wouldn't say I have a process. I just decided one day, having taken a picture of a cathedral (I can't remember which one) that I would get as many of them photographed as I could. I got a good shot in the National Railway Museum on a wet day while on holiday in Yorkshire – that started the interest in chasing steam trains. I already had taken shots of a few castles near to home so the choice of my third project was not hard to make!
Do you have any specific tips for first timers using Calvendo?
If you're like me,you'll get very excited when the Calvendo jury decide to publish your efforts and get impatient to see it up for sale – calm down, be patient, give the process time.
Why did you decide to use the platform and start publishing calendars?
I honestly can't remember how I came across Calvendo but I'm glad I did, it's great fun!
Last but not least, what are your general comments on Calvendo as a self-publishing platform: Anything you particularly like? Or things that need improving?
No, you're doing just fine thank you (except that I'd like a bit more money for each sale but you would expect that wouldn't you?!)
Thanks, David, for talking to us – we look forward to seeing more of your work in our product gallery!
See David's calendar portfolio in the Calvendo product gallery